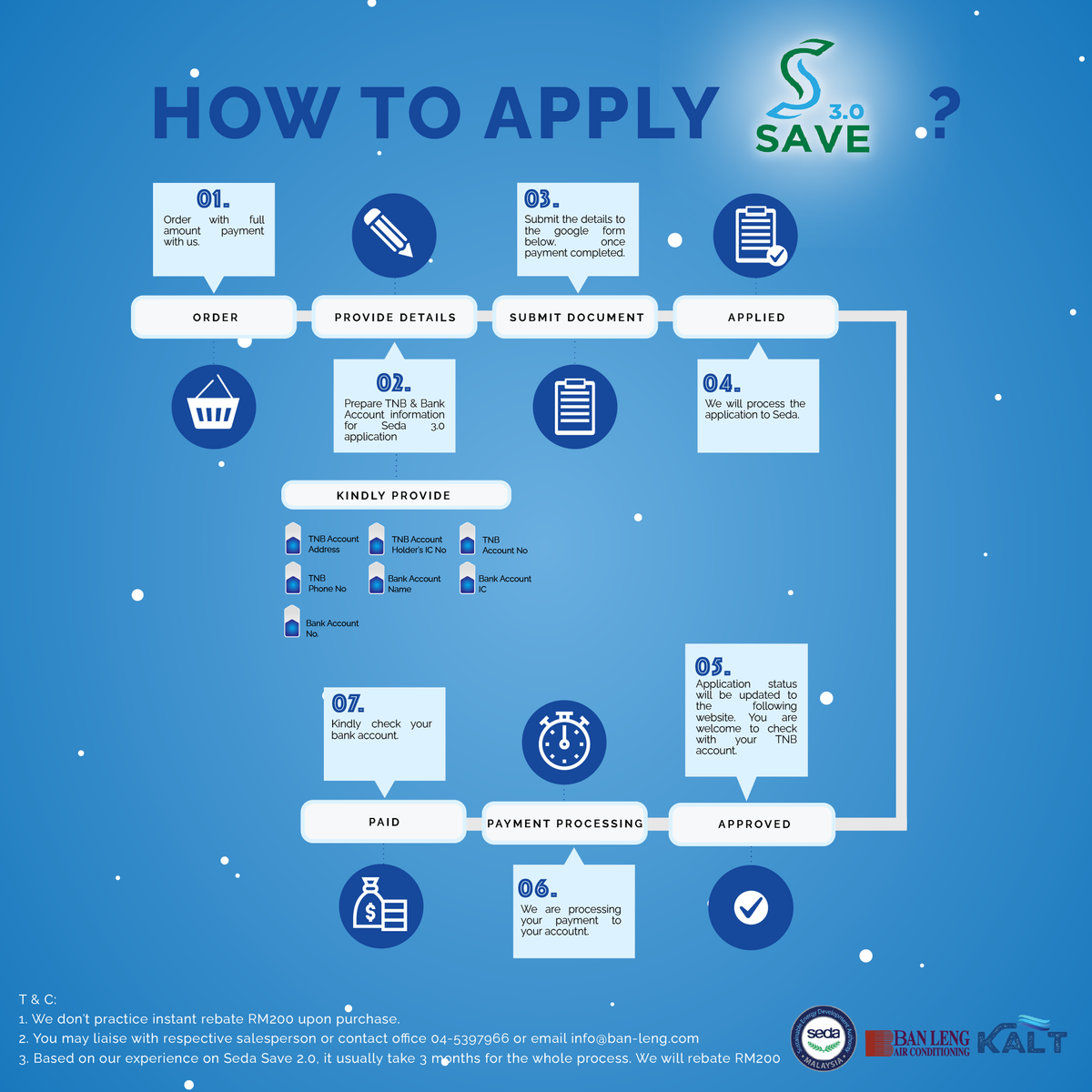 𝘏𝘰𝘸 𝘵𝘰 𝘨𝘦𝘵 𝘙𝘦𝘣𝘢𝘵𝘦 𝘙𝘔 200 𝘰𝘯 𝘐𝘯𝘷𝘦𝘳𝘵𝘦𝘳 𝘞𝘢𝘭𝘭 𝘛𝘺𝘱𝘦?

𝘐𝘴 𝘪𝘵 𝘵𝘰𝘶𝘨𝘩 𝘵𝘰 𝘢𝘱𝘱𝘭𝘺 𝘚𝘢𝘷𝘦 3.0?.Not at all! It's super easy, like learning ABC!!
.


Here the steps


.𝗦𝗧𝗘𝗣 𝟬𝟭 | Order Air Cond From Us.

𝗦𝗧𝗘𝗣 𝟬𝟮 | Please prepare the following information:-


TNB Account No

TNB Account Name

TNB Account Address

Account Holder's IC No

Account Phone No𝗦𝗧𝗘𝗣 𝟬𝟯 | Please fill in your lovely information to the form: https://tinyurl.com/2s3m29se

𝗦𝗧𝗘𝗣 𝟬4 | Admin has received and is processing your application.

𝗦𝗧𝗘𝗣 𝟬𝟱 | Seda has approved your application and processing your payment.

𝗦𝗧𝗘𝗣 𝟬𝟲 | Seda has transferred the rebate to our bank acc, and Admin is paying your bank acc.

𝗦𝗧𝗘𝗣 𝟬𝟳 | Admin has transferred amount to your bank acc and kindly check your bank account
.
It required an estimated 3 months for application. Once completed, we will rebate RM200 to your bank account.
.
How to check on your application status? Feel free to check below:-
https://forms.gle/g6KcMqynWABmXqmA9
.


We will send the application status to the email address provided.
For more detail, kindly refer to this link >> https://www.kalt.com.my/collections/save-3
Or please do contact

office 04-5397966 for any further enquiry.