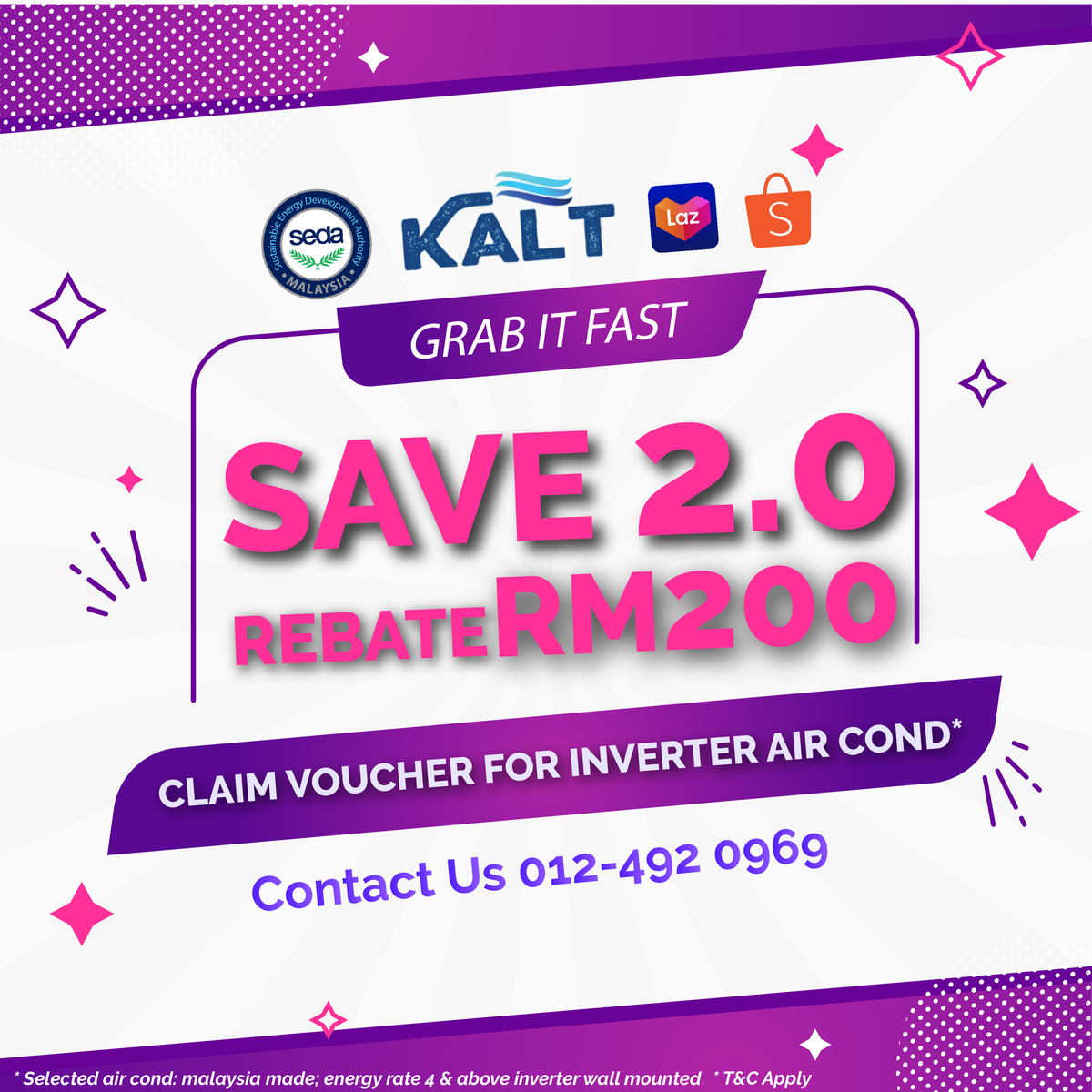 𝐇𝐞𝐲, 𝐃𝐢𝐝 𝐲𝐨𝐮 𝐤𝐧𝐨𝐰 𝐲𝐨𝐮 𝐜𝐚𝐧 𝐬𝐚𝐯𝐞 𝐮𝐩 𝐭𝐨 𝐑𝐌𝟐𝟎𝟎 𝐢𝐟 𝐲𝐨𝐮 𝐛𝐮𝐲 𝐚 𝐧𝐞𝐰 𝐀𝐢𝐫-𝐜𝐨𝐧𝐝 𝐧𝐨𝐰?
Seriously
What

.
Ya, the Government Save 2.0 Is Launching 𝐑𝐌𝟐𝟎𝟎 Rebate On Energy Efficient Wall Type. The programme is an initiative by the Sustainable Energy Development Authority (SEDA) in collaboration with us!

.
𝗪𝗵𝗼 𝗶𝘀 𝗲𝗹𝗶𝗴𝗶𝗯𝗹𝗲 𝗳𝗼𝗿 𝗦𝗔𝗩𝗘 𝟮.𝟬?

Malaysian citizen

Account holder/user of a registered domestic account with Tenaga Nasional Berhad (TNB)

The e-rebate can be used for the purchase of an inverter air conditioner with a 4 or 5 star energy efficient rating in the year of 2021.

Each TNB account is eligible for one e-rebate and the e-rebate vouchers are given out on a first-come, first-served basis.
.
𝗛𝗼𝘄 𝘁𝗼 𝗰𝗹𝗮𝗶𝗺 𝘁𝗵𝗲 𝗥𝗠𝟮𝟬𝟬 𝗲-𝗿𝗲𝗯𝗮𝘁𝗲?

Buy Air-Cond with us

We help you to apply the e-rebate on the system save 2.0

You choose the selected air-condition below:-
.https://save.seda.gov.my/publics/product

Cash RM200 will be transferred back to your bank account upon approval from save 2.0.

That's all
It's easy right
The offer starts by today and it will be end soon. Don't wait and claim it right now
Happy shopping

.

Buy Now

Website
https://store.kalt.com.my/
Shopee
https://bit.ly/2HieGKL
Lazada
https://bit.ly/3onhKpE
.
*𝘛&𝘊𝘴 𝘢𝘱𝘱𝘭𝘺.